Data Extraction and Document Conversion Made Simple with Paloma's
ADEPT

Suite™
Modernizing Document Transformation
Companies involved in distributing consumer documents like bills, statements, policies, contracts, invoices, and notifications understand – managing data extraction for re-use is a resource-draining chore. If done improperly, it can have serious implications for both the consumer and the business. But ditching old data sets because of the time it takes to convert them to new or different mediums simply isn't an option for budget-minded companies.
CDP Communications' ADEPT Suite™ of document conversion software is Paloma's solution to time-consuming data retrieval and document conversion from legacy print streams. ADEPT Suite™ employs an intelligent rules-based approach to winnow data and accurately extract the pertinent items for contemporary print streams. When combined with Switch automation software, ADEPT Suite™'s data extraction power becomes fully automated, saving companies both time and money.
ADEPT

Suite™ Deftly Integrates Consumer-Friendly Technologies

Paloma's document conversion and data extraction software offers tools to take advantage of technologies like:
Customer Relationship Management (CRM)
Electronic Presentment and Payment (EBPP)
Electronic content and document management
Automated document testing solutions like Print Perfect
Archival systems
Supported
ADEPT

Suite™ Transformation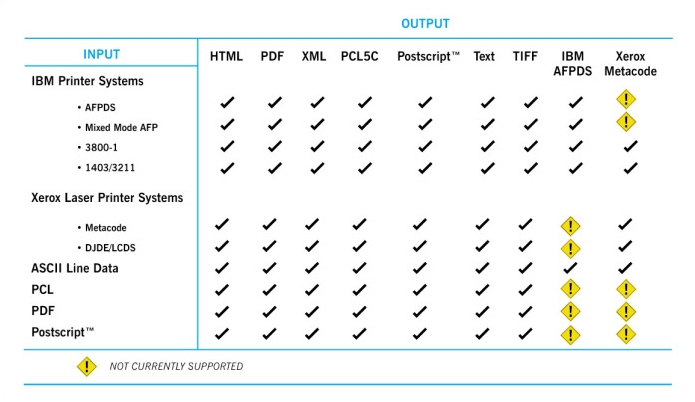 Operating System Support - Windows 7, Windows 8, Windows 10, Windows Server 2008, and Windows Server 2012; v4.33 Unix - Sun Solaris® 9 (Sun OS v5.8 and v5.9) and AIX v4.3.3 Linux® (x86) - Suse v9.1, Fedora Core 6
Minimum Hardware Requirements - 8 GB RAM, 500 MB of available hard disk space, CD-ROM Drive
Software Requirements - HTML viewing requires Internet Explorer version 5.5 (or compatible) or higher; PDF Viewing requires Adobe® Reader version 5.0 or higher
For more information on
ADEPT

Suite™ or any of Paloma's document conversion or testing solutions, contact our sales representatives for a brochure.