Automate Document Testing and Data Extraction with Switch™
The Ultimate in Quality Document Assurance Testing Programs
The work of comparing documents is just one step in the consumer document testing process. Employing a software solution, like STREAMdiff™, or DocDiff™ dedicated to managing software comparison will save time and money on its own.
However, relying solely on print stream comparison software is not the best way to optimize the document testing process. Paloma Print Products integrates Switch™ (from Enfocus, Inc) to handle the integration of all steps in the testing process, thereby streamlining the entire process, including the tasks before and after the print file comparison step. Switch™ is a workflow automation tool used to automate manual or repetitive processes in the Windows environment.
How Switch™ Works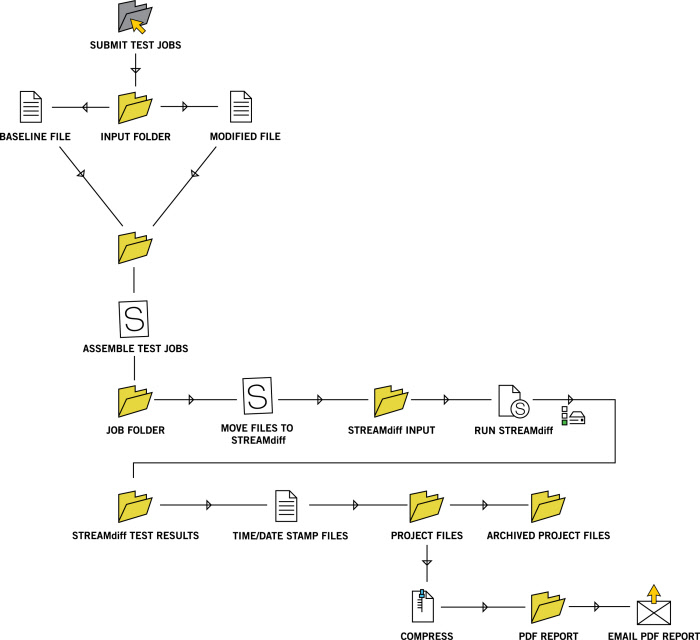 Document Comparison is Easy with Automation from Switch™
Switch is the driving force for the automation of both our STREAMdiff™, DocDiff™ and ADEPT suite™ solutions. Paloma Print Products provides customized document testing workflows with switch to completely eliminate the need for users to type instructions using a "command line" interface. Users can also remotely submit files that need to be tested to STREAMdiff™ and DocDiff™ without always needing to set up a new STREAMdiff™ or DocDiff™ project.
A direct API into Adobe Acrobat software allows Switch™ to convert Word Documents into a PDF file format, concatenate individual PDF files to streamline the print file comparison step, and much more.
Benefits of Using Switch™
Automation – Switch™ allows users to automate a wide range of procedures including:

Watches folders for files that need to be compared and then automatically launches the STREAMdiff™ or DocDiff™ comparison step
Creates a document testing audit trail
Automates the resubmission of print files when a comparison test can't run because there isn't a STREAMdiff™ or DocDiff™ license currently available
Compresses/de-compresses zip files
Sends files to recycle bin to keep project queues clean
Schedules processes to run at specific times

Administration – Switch includes a module used to define users and their access rights, lending full control over who may access the testing process
Notification – Switch notifies users when document comparison jobs are completed, and will compress the results and email them directly to the user who submitted the job, or to a predefined group of reviewers
Switch™ System Requirements
Recommended System: Intel Dual Core (or higher), 8 GB RAM, running 64-bit versions of Windows 10, Windows 2019 or Windows Server 2012, 2016, and 2019 or Mac OS 11 or higher (both on PowerPC and Intel).
Automatic testing of consumer documents is essential to your business – contact document workflow automation experts at Paloma to acquire Switch™ for full automation of all document comparison processes.